5 Ways to Build a Great Business Reputation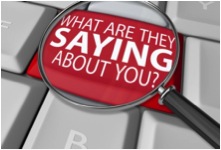 Most successful businesses rely on networking and referrals as their most effective forms of marketing. Whether it's a review or recommendation on LinkedIn or even a vague, "Yes, they're great" in a face-to-face conversation, a good reputation is one of your most valuable business assets to earn new customers and keep them coming back. It's usually built from happy customers. It may be high quality products, low prices or purposeful customer service. But the bottom line is that exceptional customer experiences make your reputation a good one. Here are five ways to build a great business reputation:
Develop Credibility
The first step is to always deliver what you promise at minimum. The best way to do so is to under-promise and then over-deliver. You'll hurt your reputation in a major way if you make promises you don't keep – via advertising, face-to-face or by your employees. So don't ever make empty promises to your customers or they won't be your customers for long.
Provide Exceptional Value
Not every person defines value the same way, so you can do many different things to provide top-notch value to your customers. You may offer a free service or product for a period of time, or offer special perks to loyal customers. Provide something your customers don't expect.  The positive word of mouth will go a long way; 92 percent of people trust recommendations from family and friends above all other forms of advertising when making a purchasing decision. So that exceptional value you provide is worth it.
Deliver Responsiveness and Reliability
Be a stickler for communication and resolve all complaints quickly. If you make a mistake or there's a delay, own up to it. Make an effort to fix the problem in a timely way and don't forget to apologize. A disgruntled customer can turn into a super fan if you resolve complaints effectively and with sincerity.
Communicate Efficiently
Keep communication with your customer's brief, productive and professional. It's important to be friendly, but also be to the point. Ensure your spelling is correct and leave contact information with each point of contact. Display your business information – the full name, address, phone number, fax number, website URL, and your hours in prominent locations on printed materials.
Perform Community Service
Selfless generosity towards local organizations in your community goes along way. Sponsor walks for charity and help raise money for philanthropy of your choice or work at your local soup kitchen serving food to those in need. Let people see your dedication to and involvement in your community and your customers will see you – and your business – in a positive light.
At the end of the day, remember no matter how hard you work your business won't be perfect and there will be times customers aren't happy. But treat your customers fairly, be honest 100 percent of the time and always go the extra mile. A good reputation is fundamental to the success of your business. Build your reputation with care and guard it once it's established.
How have you built a great reputation around your business?
Megan Totka is the Chief Editor for ChamberofCommerce.com. She specializes on the topic of small business tips and resources. ChamberofCommerce.com helps small businesses grow their business on the web and facilitates connectivity between local businesses and more than 7,000 Chambers of Commerce worldwide.