How To Implement Agile Marketing - Culture, People, Millennials, Coaching, Martech, Process, and More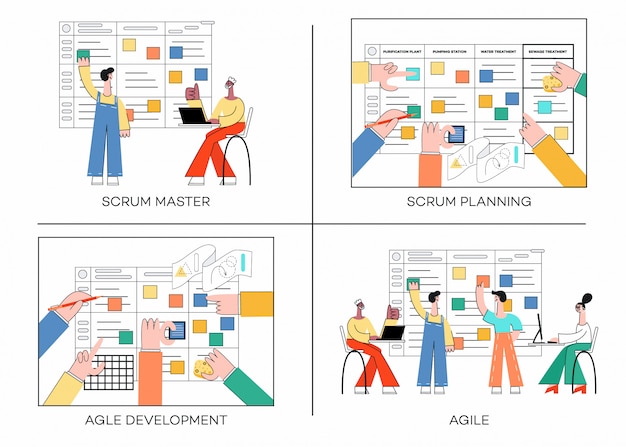 Want to learn what's really happening with agile marketing? 
Demand Metric's approach to agile marketing adoption is to start simple and then add additional layers to the process over time. This seems to minimize the disruption and from a change management perspective, all the players on the team move up at the same time.
This process has given Jesse a unique look into how different marketing departments are run and what he's found is surprising. The research out there is indicating that 30% of companies are doing a hybrid agile approach. In Jesse's experience, maybe 10% of companies are doing anything related to proper agile practices. That's a big disconnect between the hype and what's really happening with agile marketing in today's marketplace.
Since launching Demand Metric's agile marketing application, Smart Projects, Jesse Hopps, CEO of Demand Metric has talked to over 200 marketers across the country about agile marketing. Jesse recently sat down for an agile marketing podcast with Muhammad Yasin and Eva Jackson, co-founders of Agile Marketing Indy to share what he's learned.
In this blog post, you will learn:
What to look for in an agile initiative leader
How the dynamic of who's teaching/learning in the workplace has shifted
How to evaluate an agile marketing project management platform
What sets Demand Metric's Smart Projects apart from other agile solutions
If you're interested in agile marketing, 006: Mini-Sode is one podcast that you don't want to miss!
Size Doesn't Always Matter
On any given day Jesse talks to a variety of Demand Metric's customers, from mid-level directors right up to the VP of marketing in companies of all sizes, across all industries. His observation is that company size and industry doesn't seem to impact a department's process and maturity around how they approach managing work. For example, a multibillion-dollar genetics company full of engineers, may not have any formalized process in place when it comes to project management. On the other hand, a company with less than a hundred employees may have a solid process for running an agile approach to marketing. 
Overall, industry and size don't seem to matter; it's more about the culture and the people that are there. For example, if someone has had experience in an agile environment before and they come into a new job as a director or VP, they'll often bring the know-how with them. In those scenarios, Demand Metric can help bridge the gap between the company's vision and where they are today by taking an incremental approach to type and process maturity.
Talkin' Bout My Generation
When it comes to adopting an agile approach, it's all about having an "agile champion" on staff that can manage it; the right candidate to get everyone else in the company on board. In Jesse's experience, talking to Demand Metric's 800 plus customers, he's identified the agile marketing champions vs. those that are first looking for an education into what agile is, and it's potential benefits. 
An interesting finding is that the champions tend to be those in the millennial age group who grew up with the internet or those just on the cusp who lived through the technology shift. That age group, mid-thirties, in director or VP roles, have a new responsibility; to educate the older generation or the baby boomers. The roles have reversed. Because of this technological shift, the younger generation is teaching the older generation.
When companies are looking to implement change, they look to the tech-savvy millennials, or even the next round - Generation Z: mid-thirties, educated, risen through the ranks into a leadership position either through sales or marketing. Gen Z may not have the business sense, but they can understand things on a process level, and have grown up with technology. They expect an "always-on" environment. They want a blended work-life environment where they can get work done at home, and flip back and forth between personal and business on the fly at any point in time. For Gen Z, agile is nothing new. They are the agile champions that are going to change the culture in the workplace.  
The champions understand the value of process, and standardized, repeatable behavior. They have a change management background, and most importantly recognize the need for their baby boomer senior executive generation to change the culture and how they operate. For example, making the switch from face to face meetings, to an online system that always allows transparency of what's going on across the board and having access to that information in real-time.
Getting Educated in Agile is Key
After you've found your champion who convinces the senior exec to adopt an agile marketing approach, what's next? There are a myriad of management tool choices out there for marketers trying to get started, or for those trying to scale up with agile. Everything from basic Kanban formats, to sophisticated project management systems. What should companies be looking at when they're evaluating what tool is right for them?
Unfortunately, the answer isn't as simple as the champion goes out and selects a tool. The first step is educating the user to provide knowledge and a better understanding of what agile is from a marketer's perspective. There are many agile tools out there to manage work, such as Wrike, Asana, Basecamp, Trello, etc. They do elements of agile, but few tools do it properly. 
The next step is learning more about why the company cares to visualize their work in the first place, and how they are managing work right now. It's also about learning the constraints or requirements in the IT department. There's often not complete freedom in terms of selecting the right tool. 
Choosing an Agile System
The first thing to do when choosing an agile system is to evaluate the current process and identify the vision for that process in the future. This provides a good filter to identify basic vs. more advanced requirements. 
The second thing is to determine the importance of visibility across multiple projects on one interface, like on a Kanban board. 
What Sets Demand Metric Apart
Most tools out there, like Asana, Basecamp, or Trello, allows the user to build multiple boards, but when you want to do a Kanban approach and see multiple projects on one common board and then add a filter like priority or what's tagged as this sprint, the popular tools are lacking in this area. This is one of the main reasons Demand Metric built their Smart Projects tool the way they did, with the capability to see all projects on one board and manage everything through a simple sprint tag. Without the capability to do Kanban across multiple projects, and most tools don't allow for this, it's really hard to get the ball rolling, and move on to scrum. 
Overall, when adopting an agile approach, Demand Metric evaluates the current process and determines how important it is for you to get a cross view of all projects in one interface, like a calendar, board or list. From there, they can determine if Smart Projects is the right fit. 
Demand Metric allows you and your team to work with any of the Agile Marketing approaches to improve the progress of your projects.
As a collaboration and communication tool, Demand Metric will help you check project status at any time from anywhere.
All your projects will be stored in one central, convenient location, and you will get automatic alerts when tasks are complete, or when your team is falling behind.
Analyst Bottom Line
The purpose of these three methodologies is to keep work optimized to achieve better results and higher productivity for your team. These concepts will help control your projects so they are right on schedule and reach completion.
Are you ready to learn more?
Check out our "What is Agile Marketing" post or click here to book a demo.