Are In-Person Trade-Shows & Events a Thing of the Past?
By Lauren Follett
I read an interesting Software Advice article written by Dayna Rothman, Content Marketing Manager at Marketo that examined the planning & execution of Marketo's virtual event "Good to Great—A Marketing Virtual Event" that took place in November 2012. The event was one of the largest virtual events in ON24 history, with more than 10,000 registrants and almost 3,500 attendees.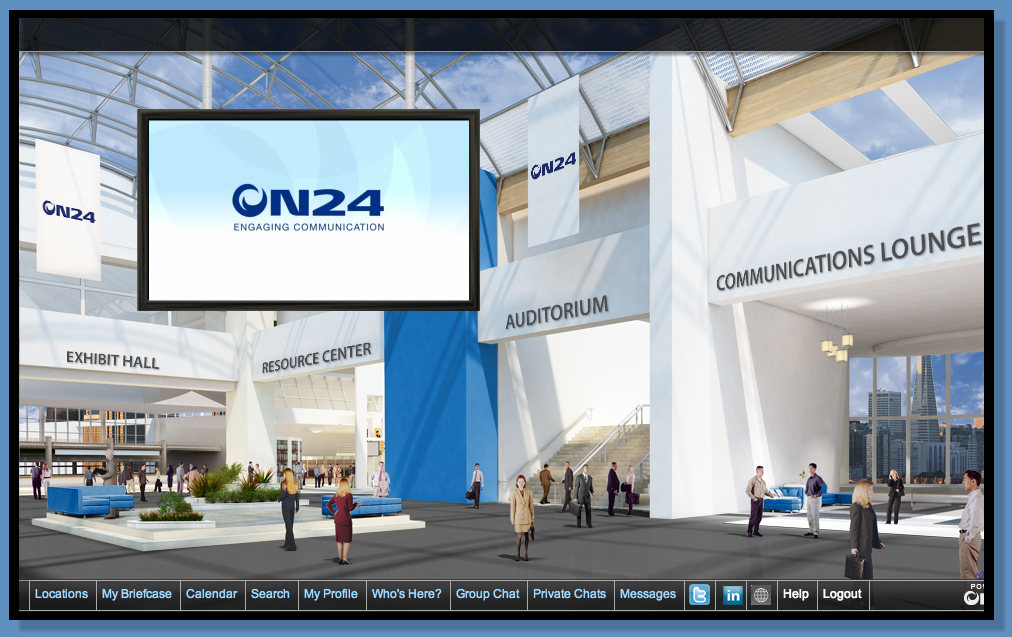 After reading this case study I was left wondering if in-person tradeshows & events are a thing of the past?
Virtual events seem to accomplish everything that in-person events do: lead generation, promoting your company & brand, selling a product, interacting with attendees, giving out prizes, designing a booth, etc. But, here's the big difference & major plus in my opinion; you're conducting this event in virtual reality. No need to order & assemble a physical booth, coordinate transportation to & from the event, rent a venue, get hotel rooms for staff, pay for all staff meals & drinks during the event, create & print collateral, etc. Similar to eWorkshops & online webinars, the event is completely executed online.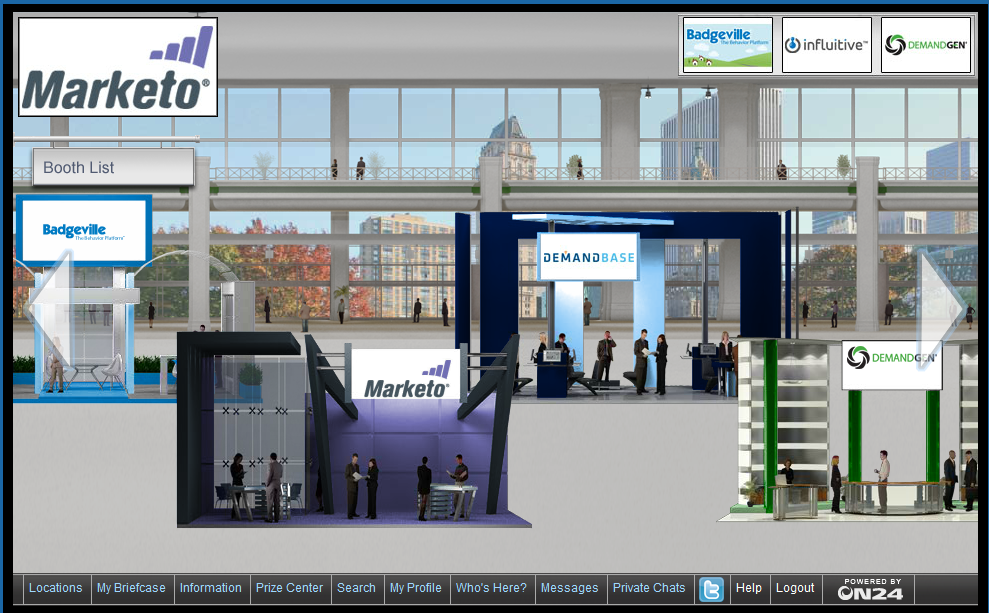 In order to form your own opinion on the future of tradeshows & events; here are a few main points from Dayna's article that talks about what's involved in planning & executing a virtual event: 
Cost.
The cost of  virtual events vary depending on a two main factors:
Level of participation—hosting your own event will be more expensive than if you're simply sponsoring or exhibiting at one
The technology platform you use to host the event
To determine the cost of your virtual event, first determine what features & functions your event will require, and than start submitting proposals to different vendors. Compare quotes, and choose the one that best fits your needs.
Platforms/Vendors.
There are many technology platforms available that you can use to host a virtual event, including ON24, InXpo and InterCall. Most platforms are easy-to-use and allow you to customize the look of your event with:
Pre-designed templates,
Uploaded videos, content, your logo/company info
Prizes and/or giveaways,
Social sharing capabilities, and
Booth colors/themes
Interacting with Attendees.
Similar to eWorkshops and Webinars; most virtual event platforms allow you to chat with your event attendees via a group chat box. This allows you to send a welcome message to visitors, answer questions, direct people to specific content or connect them with a sales rep.
Prizes and Contests.
Just like physical trade-shows & events, prizes and contests are a great way to attract attention to your booth and increase exposure to your content & brand, and ultimately collect leads. During a virtual event you can apply a gamification strategy and aware prizes or points to attendees for completing tasks during the event, such as:
Exchanging a vCard (virtual business card)
Visiting certain booths
Attending a session
Downloading content
Completing a survey
Participating in a group chat in your booth
You can set up your virtual event so that the attendee (s) with the most points at the end wins a prize.
Click Here to read the entire article.
In this digital day & age many activities that used to require human contact (in-person or over the phone) can now be completed online without any human interaction:
Shopping
Customer Service (live online chat)
House Hunting
Seminars (now webinars)
School (online courses)
Grocery Shopping
I'm sure there are more examples, but the point is that most activities can now be accomplished without having to physically see or speak to anyone.
I was amazed at the technology we have available today where we can actually host an event with 3,500 people without having to leave the office. In a world where speed & efficiency is king this is a dream come true.
On the other hand, is there still value in human interaction? Can we form the same type of relationships virtually as we can in-person? If not, are advancements in technology simply going to create a new type of virtual relationship? And are we ok with this?
Considering these questions, do you think in-person tradeshows & events a thing of past?