PR Crisis Communications: Can You Put Yourself in United Airlines' Shoes?
Public Relations managers and Marketing leaders around the world collectively shuddered when we saw the recent fiasco involving United Airlines.
As many of you are aware by now, David Dao, a paying customer, was forcibly removed from his seat and injured by United Airline staff, simply because he did not want to give up his spot due to the airline's poor overbooking policy.
As marketing and communication leaders we may not have to deal with such an explosive PR crisis in our career, but it's that type of "not me" thinking that can lead to brand damaging results.
What we can learn from the United Airways PR disaster
Imagine you're the SVP Corporate Communications for United Airlines. You're now experiencing one of the most challenging months of your career. An unexpected PR disaster has landed in your lap, a situation that no one anticipated, but never-the-less one that is exploding fast.
Not a good feeling, is it?  Definitely not the time for calm, cool thinking and contingency planning. I would expect given their industry and organizational size, United Airways would have a formal PR crisis plan in place. Unfortunately, most mid-sized companies can't say the same.
Luckily you have been granted this wakeup call.  You have that opportunity to learn from United Airlines' situation. Now is the time for your organization to develop your PR crisis plan – a plan for multiple contingencies, that has been vetted and approved by organizational leadership. Get prepared now while you're not dealing with legal issues and a media frenzy.
Preparation in Advance of Any PR Crisis
I. Use Templates and Resources to build a Crisis Communications Plan:
There's no need to start from scratch when tackling Crisis Plan development. There are many consulting firms that offer this type of engagement and there are also some templates to be found online if you are a do-it-yourselfer. A good guide with templates to use is available from Demand Metric.  This PR Crisis Communication Plan – How-To Toolkit walks the reader through the necessary steps for completing their plan and is accompanied with 25+ tools and templates to speed the process (see linked tools throughout this post). Their 5-Step plan is thorough and will prepare your organization for a multitude of scenarios.
RESOURCES:
II. Create a Crisis Communication Team:
Once you have your Crisis Communication Plan in hand, you will need a team to execute the policies within the document. This team is a very important part of your readiness for a crisis, and securing the best people for each position should be a significant priority. If necessary, consider external resources to fill any internal HR gap.
You should include the following roles to your crisis team:
• Crisis Communications Team Leader

• President/CEO

• Public Relations/Communications

• Legal Counsel/Advisor
• Senior Advisors/Vice Presidents/Department Heads
RESOURCES:
III. Monitor changes to the plan over time:
Once your Crisis Communications Plan document is completed, and you have a team in place to execute its policies during a crisis, you will need to ensure that any changes made to this document are monitored and recorded. Indicate any changes to the plan on a review chart, including what changes were made and what date they were approved.
RESOURCES:
Demand Metric's plan is comprised of 5 main steps: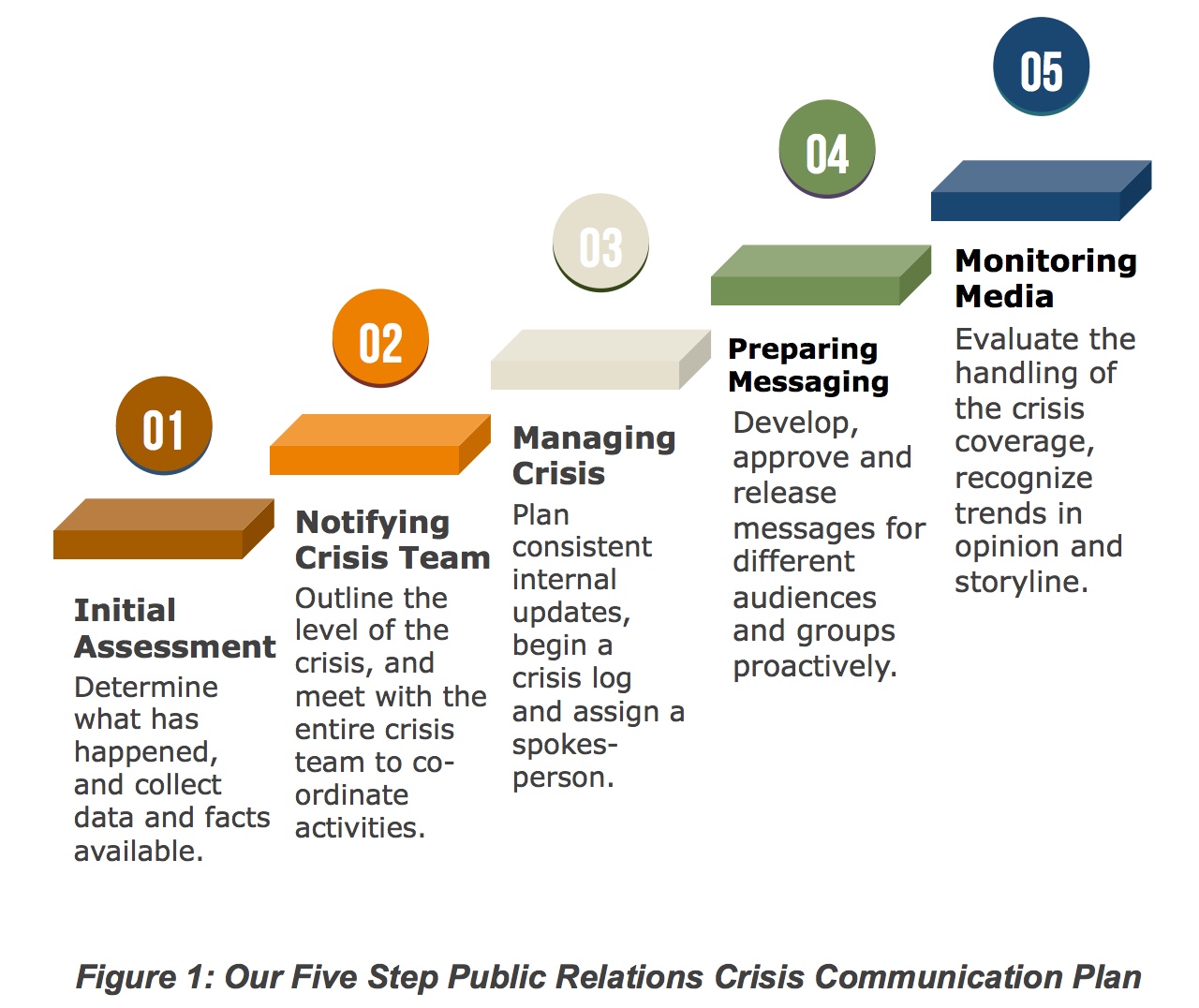 If the crisis is critical, these five steps can occur within just a few hours, and may need to be repeated as the crisis unfolds. Each step must be prepared as much as possible in advance, similar to a fire drill for evacuating during an emergency, so when a public relations crisis does indeed happen, the entire company is on the same page on how to respond accordingly.
Let's take a deeper look at each step
Step 1:  Initial Assessment of a Crisis
The first action step is to determine what has happened; and there may be plenty of questions that need to be answered. To give you a great head start, leverage this Crisis FAQ Template for some important questions to ask including, "When did this happen?" and "How was the incident discovered, by whom and when?". You will need to add your own questions to this list related specifically to your industry and organization. If the crisis involves a physical location, you will need to co-ordinate with the site of the incident to ensure someone is managing the communications at that location, and providing any additional insight.
While you determine what has happened, you should actively be collecting all data and facts as they become available. You should also create your initial responses including: a holding statement, media response, press release or press statement Media Response Policy.
RESOURCES:
Step 2:  Notifying the Crisis Team:
By the second step of this action plan, the Crisis Communication Team Leader (CCTL) should have been notified and is now managing the crisis communications on behalf of the organization. The Crisis Communications Team Leader (CCTL) will first determine the level of the crisis (using the approved crisis policy document). Next, the CCTL contacts all team members required to be on alert with the current crisis level, and schedules a conference call to discuss the crisis, as well as any next actions required.
RESOURCES:
Step 3:  Managing Crisis Communication:
During the third step of the action plan, the Crisis Communications Team must coordinate communication with people both on-site and off-site.
For managing off-site communication, the Crisis Communications Team (CCT) must plan consistent internal updates on the crisis, as well as recognize key groups for messaging (such as families, stakeholders and media).
The CCT must also manage all on-site communication. This starts with recognizing who the main on-site contact will be, and then setting up a location for a communications operations center.
RESOURCES
Off-site communication:
On-sitecommunication:
Step 4:  Preparing Crisis Messaging
The fourth step in your action plan should focus on building, approving and releasing specific messages to key groups and audiences. It all starts with building messages by verifying all data collected are indeed facts, and then assembling a script with key points. You should prepare a list of crisis-related questions different groups could ask (partners, organizations, media, families etc.) and then adapt pre-scripted messages or make new messages for the crisis.
RESOURCES:
Build Messages:
Approve/ReleaseMessages:

Step 5: Monitoring Media Response
In the fifth and final step of the action plan, your Crisis Communications Team must evaluate the handling of crisis coverage by the media. You should pay close attention to any media channel that asked about the crisis directly, and follow up with how they respond (what they write, show etc.) You should also examine local media responses (near the site of the incident) to ensure you are not missing any geographically relevant response.
RESOURCES:
You never know when a PR nightmare may be coming your way as we have seen in the recent United Airlines situation.  Being prepared for an unexpected crisis simply makes your organization stronger and more capable for surprise. Having a good crisis communications plan is a great sign of both strong teamwork and proactive thinking in any company.
Access your copy of Demand Metric's "PR Crisis Communications Kit" shares a five-step action plan for protecting your organization's public image during a crisis.
--------------------------------------
Need more practical marketing help for the do-it-yourselfer?
Become a member and access all of our tools & templates