3 Focal Points to Draft a Five-Year Growth Plan for Your Small Business
The U.S. Census Bureau tells us that there are just under 30 million businesses operating in the United States. A frequently cited U.S. Commerce Department survey noted that eight out of ten new businesses close up shop within their first five years. Avoid roadblocks to growing your business and make it a point to put together a solid business plan – it can literally be the difference between success and failure.
A solid five-year business plan is a crucial stepping-stone to making your business goals come to fruition and is one of many big business growth strategies your small business can use. Make sure to forecast growth, anticipate some debt and clearly define a mission statement for your enterprise.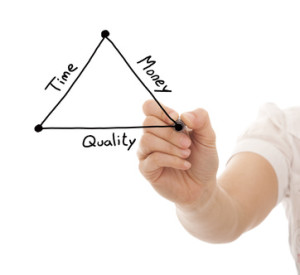 As you draft your five-year plan, focus on the following points to help you put together a well-constructed one:
1. Identify and Define Your Goals and Priorities
Create a list of short- and long-term goals. Choose ones that are SMART – specific, measurable, achievable, realistic and timed. These goals can act as guides as you work through your business plan for growth, and will help you best focus your efforts on doing what it takes to achieve your goals. Be realistic about where your business is at the time the plan is being created and use this as a guide to set goals that make sense for your business.
2. Set-up a Timeline with Milestones
It's essential to set up a timeline with some attainable goals to hold you accountable and allow you to be able to mark your progress. Include details such as the number of customers you hope to acquire, and any additional employees you may need to bring on to accommodate business growth. Focus on how these activities will act as building blocks to achieving your goals for growth.
3. Profile Competitors
Take a look at your competitors if you are new in the business, and if not, figure out any emerging competition. Reflect on how your competition can alter your goals for growth. An emerging business may lead you to change your prices and the speed at which you can deliver products and/or services. Make sure you work diligently to maintain the highest quality services for your customers at all times.
Business plans are often associated with start-up businesses alone. However, an evolving, written business plan is key to help any company act proactively and lead to greater business success.
How did you construct a lucid business plan?
Megan Totka is the Chief Editor for ChamberofCommerce.com. ChamberofCommerce.com helps small businesses grow their business on the web and facilitates connectivity between local businesses and more than 7,000 Chambers of Commerce worldwide. She specializes on the topic of small business tips and resources and business news. Megan has several years of experience on the topics of small business marketing, copywriting, SEO, online conversions and social media. Megan spends much of her time establishing new relationships for ChamberofCommerce.com, publishing weekly newsletters educating small business on the importance of web presence, and contributing to a number of publications on the web. Megan can be reached at megan@chamberofcommerce.com.