Six Low-Cost Ways to Breathe Life Into Your Trade Show Display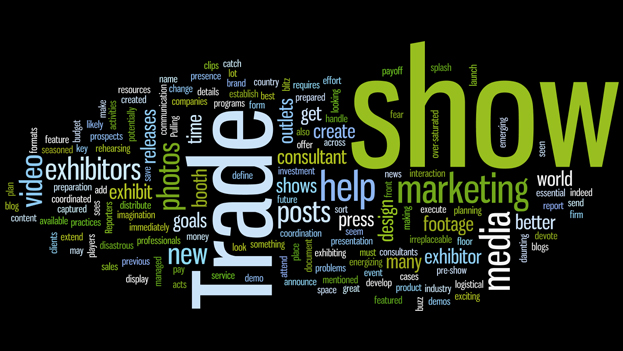 Trade shows can be wonderful places for a small business like yours to find new clients and partners. Unfortunately, exhibiting at a trade show can often be expensive. It's easy to spend $3,000 to $10,000 on the floor space alone—and that's before you rent a booth, buy signs and banners, or purchase promotional items to give away.
While you can't do much about the fixed costs of being an exhibitor at a trade show, you can save money on your display while still attracting more visitors (and potential leads) to your booth.
Create Reusable Signage
Avoid putting the year or any other time or seasonal indicator that might keep you from being able to use your signs year after year. Creating signs with just your business name and logo saves you money, and you can reuse them for any event at any time of year.
Hire a professional designer to make your banners stand out. Make sure the sign can be read from a distance, and the colors are vibrant (without being garish). The sign's job is to lure people to your booth.
Go Beyond Traditional Promotional Products
Trade show attendees will have bags of pens and candy from other exhibitors. Stand out by choosing promotional products with a bit more pizzazz. For example, smartphone cases are popular and useful, as are flash drives. Aim to get your logo on promotional items people will actually use and talk about.
Consider investing a bit more in a handful of promotional products at a higher price point, and reserve those for strong leads.
Host a Hip Giveaway
Who wouldn't want to win an iPad? Tablets, tech tools, and other gadgets are always a draw at trade show booths, so choose a prize people will seek you out to win. Such a prize could be a basket of your products, or a hot ticket item valued at $500 or less.
Plan to heavily promote any giveaway you host before and during the event, both in marketing collateral and on social sites. Make sure to get each entrant's contact info for your database.
Set Up a Twitter Feed
If the events you attend are tech-focused, consider setting up a TV monitor or laptop to track the hashtag associated with the event. People like to stay in the loop with what others are sharing, and you can draw in more traffic by placing the screen prominently in your booth, and making it visible to those passing by.
Show Videos of Your Products
Another way to use video at a trade show is to run a loop of videos demonstrating your products, especially if they're too large to bring to the show. Create a series of short (2- to 3-minute) videos with eye-catching imagery and professional filming to attract conference-goers to your area.
Rethink Your Marketing Materials
Assess what you've had printed for past shows, and review the content people have actually been excited to read or use. You might leave behind the product spec sheets in favor of a high-level product guide, or try something fun like an infographic poster visitors can take with them.
Make sure your marketing materials look professional, are free of grammatical errors, and have appealing images to entice people to pick them up. And invest in quality where it's needed. Your tri-fold brochure doesn't need to be on expensive, heavy stock paper. If you're printing large numbers of an item, you can still get affordable, high-quality printing. On the other hand, if you have a special media kit you plan to hand out to a few members of the press, spring for a high-grade paper. It's worth the price to make an excellent impression.
Keeping your trade show costs down can help you realize a better ROI from the event. Focus on delivering more "POW!" for less money, and engaging with people at the show. Learn from past events and tweak your strategy for future successes.
Susan Payton is the President of Egg Marketing & Communications, an Internet marketing firm specializing in marketing communications, copywriting and blog posts. She's also the founder of How to Create a Press Release, a free resource for business owners. She's written three books: DIY Press Releases: Your Guide to Becoming Your Own PR Consultant, 101 Entrepreneur Tips and Internet Marketing Strategies for Entrepreneurs, and contributes to several sites, including ChamberofCommerce.com, The Marketing Eggspert Blog, CorpNet, Small Business Trends, and BizLaunch. Follow her on Twitter @eggmarketing.