Examples Of The Job Responsibilities Of An Event Manager
An event manager is a person who is responsible for organizing parts of a trade show, seminar or other event. In most instances, the event manager reports directly to the Director of Marketing or the Director of Operations. When something goes wrong during an event, all eyes look to this person for answers. Just a sampling of the duties an event manager has will provide you with an idea of how much responsibility comes with the job.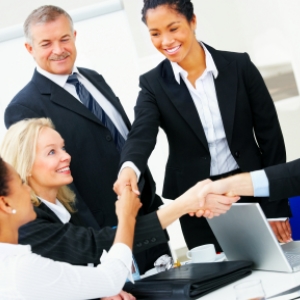 A big part of what an event manager does takes place before and after the event. When a company takes the time and effort to put on an event, there are always key guests that the company is trying to impress. The event manager is responsible for establishing a rapport with the guests prior to the event and for maintaining this after an event is over. By making contact with event attendees prior to the event, a manager can learn what needs to be done to make an event a success.
The event manager is responsible for all travel arrangements and accommodations for key guests. He or she is also the person responsible for making sure that all event equipment arrives on time, gets set up, and is returned on time. Once again, these are all critical arrangements that happen before and after the show. Without attention to these details, an event cannot be a success.
As for the event itself, the manager is responsible for coordinating all aspects of the staff as well as the schedule of events. That schedule also includes the time for contractors and workers that will make the event a success. This person typically has a staff available to help him or her complete all of these tasks, however the final responsibility falls on them. This is a high-pressure position that comes with significant challenges and rewards.