Trends in Mobile Marketing
The Association of Strategic Marketing (ASM) recently published the results of the Mobile Marketing Trends Survey it conducted online.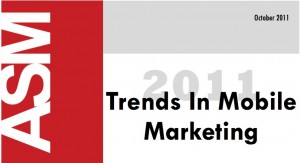 You can get a copy of this insightful research for free.
The report, authored by Corry Mahnke and Teresa Kalina, is full of the kind of data for which marketers are starved: hard numbers about the trends and adoption of mobile technology for marketing. When many of us are trying to figure out the business case for mobile marketing, how to deploy it and when, this report could not have come at a better time.
Some of the findings shouldn't surprise us: the goal of most mobile marketing efforts is sales or revenue. Other findings initially surprise, then make sense upon further reflection: small companies are investing more aggressively in mobile marketing, based on year-to-year budget growth, than large or medium-sized companies. And what about the future of QR codes? Well, they're kind of like DVDs: they've been around a long time but people are still using them effectively, even though alternatives exist.
My biggest takeaway from the ASM survey was this: almost 60% of respondents do not have a mobile strategy at the present time.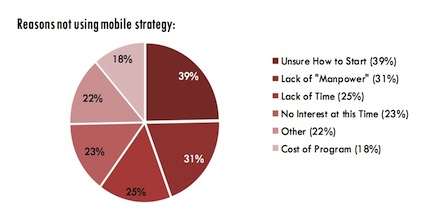 Reasons given by respondents to the ASM survey to explain why they are not utilizing a mobile strategy
When asked why, the primary response was "unsure how to start".  We've all been there. So many technology channels have emerged in the last 10 years, we've all had to climb the learning curve. Some of us have done it so often (early adopters) we're in better shape to do it again and are always up for the challenge. But many of us are not the first to jump into the technology pool. We exercise more caution and could use a little guidance.
For mobile marketing, Demand Metric provides help for those unsure of how to start. The Mobile Marketing Readiness Assessment tool is ideal for organizations trying to figure out their first step toward a mobile strategy. This assessment is a Microsoft Excel-based tool that will let you evaluate your readiness to move forward with a mobile marketing initiative. Taking the assessment will help you:
Identify mobile marketing best practices
Reduce the risk of a failed project
Gain support for budget approval
Display a graphical view of your readiness on a radar-chart
Share results and recommendations for identified areas of low-readiness
Through Demand Metric's partnership with the ASM, this tool is available free to ASM members. This assessment is just one of many tools in the Demand Metric Mobile Marketing toolkit. Visit the Demand Metric website for full details on all the tools to help you implement a mobile marketing strategy.