Product Development Examples
The Top Five Principles for Successful Product Development
According to Aberdeen's September 2008 benchmark report, Getting the Process Right – a Fresh Look at PLM and Product Development, the average engineering organization is nearly half as likely as its Best-in-Class peer to report having a centralized process in place to support the capture and reuse of product data and information. But many engineering organizations also struggle with how to effectively document, approve and release final designs to manufacturing, as well as how to effectively manage engineering changes post-release.
The following report explores how the Best-in-Class apply tools and methodologies in each of these key areas in order to achieve greater profitability and efficiency - providing a roadmap for others to do the same.
Featured Insight of the Day
The number one product development strategy for Best-in-Class product development organizations is aligning products more closely to customer needs. What is perhaps most worth noting here is that this is recognized an as important strategy to pursue by nearly all manufactures, with the Best-in-Class rating this at the top of their list. This positions top performers well to focus on two of the top pressures facing manufacturers today – changing customer needs and the need to capitalize on new market opportunities. See Figure 1 for other product development strategies employed by Best-in-Class organizations.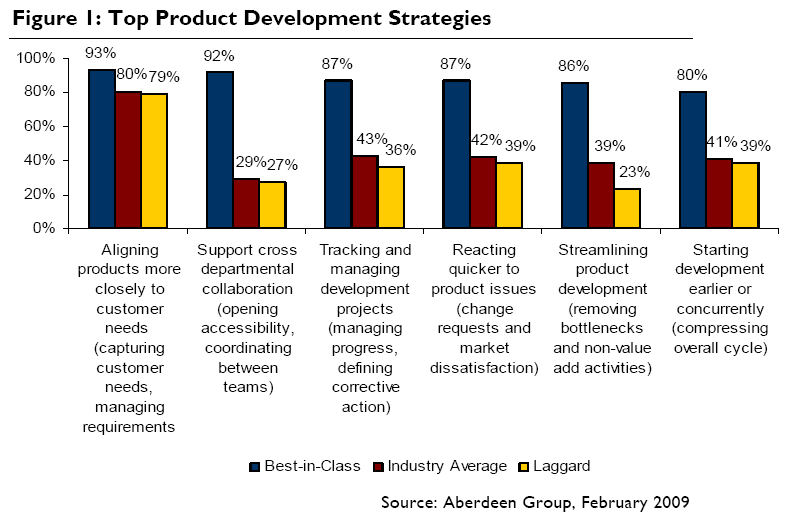 How Demand Metric Can Help
If you want to incorporate some Best-in-Class product development techniques into your process , check out the following templates:
Product Process Development Model
Customer Satisfaction Form Template
Product Feature Competitive Analysis
Product Development Metrics Dashboard
Next Steps?
If you are currently a member of Demand Metric and would like to learn more about how you can read the rest of this Analyst Insight and get access to over 6500 additional reports in the Aberdeen Research Vault, click here.
To learn more about the Aberdeen Research Vault, click here.
To learn more about Demand Metric, click here.