Sales and Marketing Alignment
Collaboration + Cooperation = Peak Performance
Organizations in 2010 remain under economic pressure to accomplish more with less, as companies endeavor to achieve and sustain recessionary profitability through top-line revenue growth. Sales and marketing alignment is critical for this growth as it encompasses the areas of common goal identification, defined responsibilities, and established workflows that are essential in producing optimal results.
In August of 2010, Aberdeen Group's Marketing Strategy and Effectiveness research practice surveyed 453 companies to assess the state of sales and marketing alignment. This report will review the common processes, capabilities, technologies, and metrics used by top-performing organizations to ensure sales and marketing alignment as well as tight operational synergy that, in turn, delivers greater top line revenue growth.
Featured Insight of the Day
Best-in-Class organizations "land and expand" their alignment strategy by creating and enhancing their capabilities to further the cause that many companies haven't even started to address. Figure 3 illustrates how the top performing companies develop specific, focused capabilities to turn an alignment strategy into operational skills.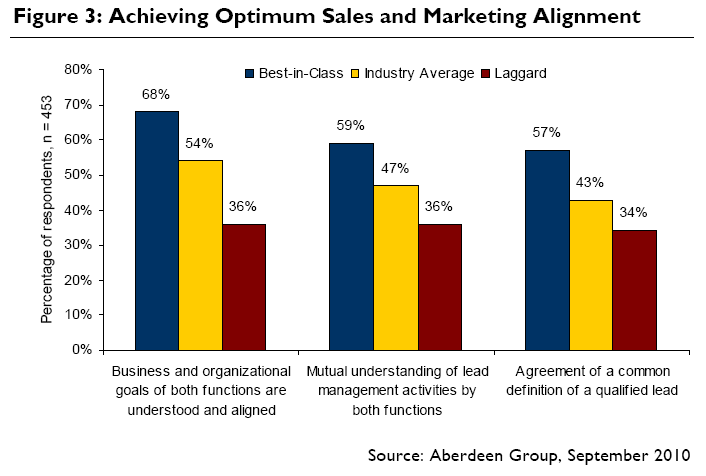 How Demand Metric Can Help
If you need to evaluate and improve sales and marketing alignment in your business, check out the following templates:
Sales and Marketing Alignment Tool
Sales Operations Process Audit
Marketing and Business Alignment Tool
Next Steps?
If you are currently a member of Demand Metric and would like to learn more about how you can read the rest of this Analyst Insight and get access to over 6500 additional reports in the Aberdeen Research Vault, click here.
To learn more about the Aberdeen Research Vault, click here.
To learn more about Demand Metric, click here.